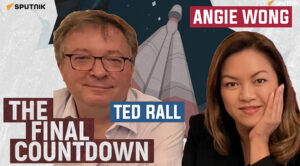 On this episode of The Final Countdown, hosts Ted Rall and Angie Wong discussed several topics from around the globe, including Biden's approval rating dropping.
Steve Abramowicz: CEO of Mill Creek View, Host of Mill Creek View Podcast
Steve Gill: Attorney, CEO of Gill Media
Fiorella Isabel: Journalist, Geopolitical Analyst
Ray McGovern: CIA Officer and Political Activist
The show kicks off with CEO of Mill Creek View and Podcast Host Steve Abramowicz talking about the NBC poll revealing President Biden's plummeting approval ratings.
Then, Attorney and CEO of Gill Media Steve Gill joins to discuss the Stop Gap money for Ukraine losing Republican support.
The second hour begins with journalist Fiorella Isabel, who shares her perspective on the newly elected president of Argentina.
The show closes with CIA Officer and Political Activist, Ray McGovern, to discuss the Israeli military operation inside Gaza and the possible expansion of the conflict.