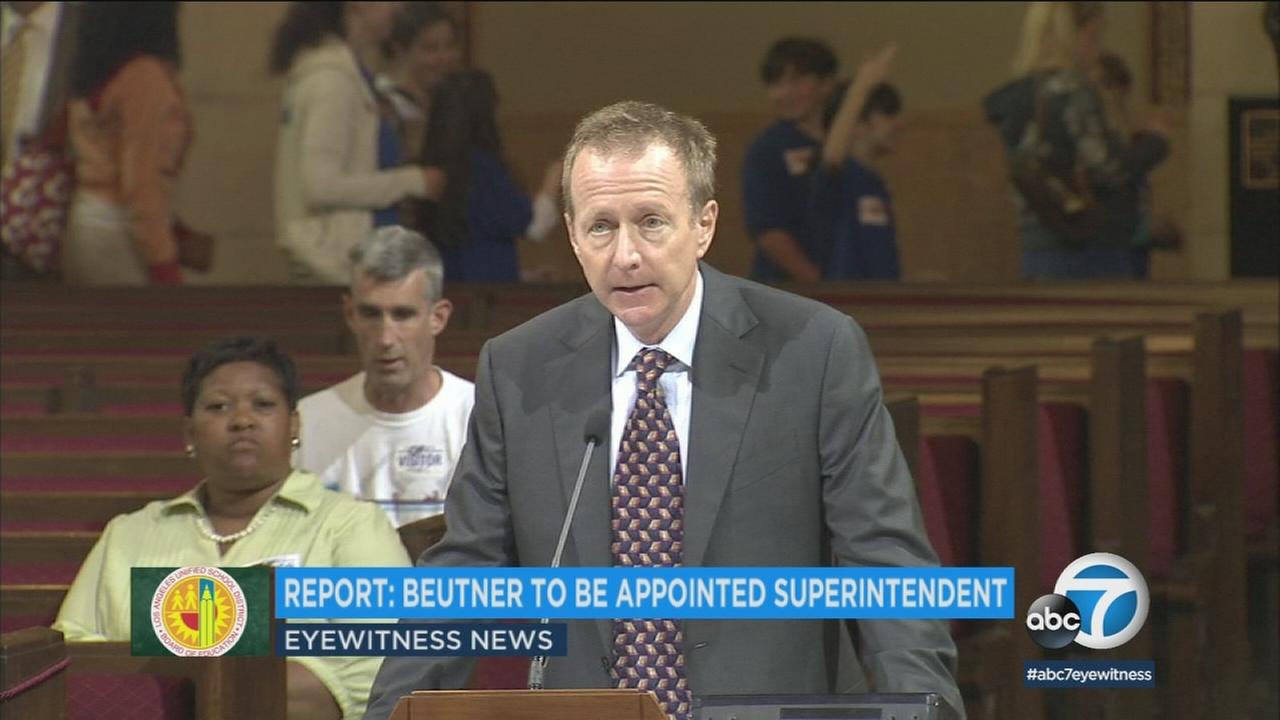 The Los Angeles Unified School District faces big problems. Magnet schools and second language programs have failed to slow declining enrollment; each of the 12,000 kids who pulls out this year means less state funding. The sprawling bureaucracy seems unable or unwilling to respond to chronic bullying centered in the elementary schools. L.A. United is in the peculiar position of raising its budget — most recently to $7.5 billion — while still having to cut back support personnel.
L.A. Unified requires strong, decisive leadership by an education expert in it for the long haul. The last thing the district and its 640,000 students need is a narcissist dilettante with one agenda: prettying up his resume. But that's what it's getting in the form of Austin Buetner.
The shadowy 58-year-old hedge fund billionaire and philanthropist, a self-declared political nonpartisan (but Bill Clinton ally) who began accruing his fortune making shady investments amid the ashes of the collapsed Soviet Union under Boris Yeltsin and co-founded the shady boutique investment and consulting company Evercore Partners, recently got the nod from the school board to take charge of L.A. United's nearly one thousand schools as superintendent. Scratch the thin surface of Beutner's resume, however, and what you find is a Hillary Clinton-like predilection for failing upward.
"Cynics might look at Beutner's conquest of Los Angeles — the fastest takeover of a major global city since the Visigoths sacked Rome — and suggest that Southern California's institutions must be awfully weak to keep seeking the services of the same finance guy," Joe Mathews sardonically observed in The San Francisco Chronicle. "They might question why he keeps getting jobs while only staying in previous ones for a short time (a year or so) and without producing a record of sustained success."
Beutner's first major foray into public service was as deputy mayor, but he only lasted a year at City Hall. He quit to run for mayor, but gave that up when it became clear that his candidacy had fewer takers than New Coke.
In 2014 Beutner, who had no journalistic experience and as far as we know has never even delivered a newspaper, was named publisher of The Los Angeles Times, following more than a decade of brutal budget cuts, declining circulation and diminishing relevancy. No one but the man himself knows why he wanted the job; Southland political observers theorized that he wanted to leverage the editorial page to run for mayor again or perhaps for California governor. To be fair, no one man could have fixed what ailed the Times after its long gutting — but if such a miraculous creature existed, it wasn't Austin Beutner.
The problem as always for Beutner is that while he knows how to slap backs and twist arms in the toniest corridors of power, he has no natural political constituency amid the electorate. He "lacks…name recognition," the Times drily reported during Beutner's aborted 2011 mayoral run.
Disclosure: Violating journalism's traditional wall between the editorial and business sides of the operation, Beutner fired me as the newspaper's editorial cartoonist as a favor to his biggest political ally, LAPD Chief Charlie Beck, because I had made fun of the cops. Overeager to please the fuzz, he even published a pair of articles about me that pretty much defined the word libel. I'm suing him and the Times for defamation and wrongful termination.
Beutner's dealings with the LAPD, whose pension fund purchased substantial shares of the Times' parent company during the short Beutner era, may be one of many moving parts of what school board member Scott Schmerelson, who voted against Beutner for the superintendent post, was referencing when he complained that the board majority failed "to exercise due diligence regarding Mr. Beutner's lengthy and tangled business affairs." Quoting Schmerelson, the Times lazily allowed: "Schmerelson did not cite an example, but Beutner, who is wealthy, has wide-ranging investments and a complex business background."
To say the least.
Just over a year after taking the helm at Times Mirror Square, Beutner brazenly attempted a failed boardroom coup to seize both the Times and the San Diego Union-Tribune from the clutches of the Chicago-based Tribune Publishing (now known as Tronc). The Tribbies were so appalled that they ordered him unceremoniously removed with his banker's box full of office supplies, turning off his Times email account so he had to send his farewell via Facebook.
Now this creepy dude is running the schools. Which prompts a few questions.
Beutner is loaded. He doesn't need the job. Why does he want it? (Although he's apparently not so much of a billionaire that he turned down the job's $350,000-a-year paycheck.)
Will he last more than a year this time?
Will there be parent-political blowback from the, to be charitable, less than transparent way that he won the support of the school board over Vivian Ekchian, the incumbent interim superintendent and career educator?
Asked the first question, Beutner responded, as he often does, with a stream of pablum: "It's about the kids. My own roots, my mom was a teacher, my dad worked very, very hard to make sure that I had a great public education. It's that common place — it's the community place, the commonplace, the community connects. And if we can provide students that same opportunity I had with a great public education, what a gift, what an honor to be able to work towards that."
In other words, who knows what Austin wants? The most obvious answer is that Beutner is a wannabe political animal who recognizes his biggest political problem: no one knows who he is. Being perceived as having turned around the schools might be leveraged into a mayoral or even gubernatorial run. Perhaps he'll want to connect his business allies to lucrative contracts supplying the district; if so, he would merely be following up such fiascoes as the district's 2013 plan to issue iPads to every student, which devolved into scandal. Beutner is a proponent of charter schools, but he faces a dilemma there: every student who transfers to a charter school takes away more revenue from the traditional institutions.
The Beutner-aligned Southern California media universe isn't spilling much ink on the aftermath of the Ekchian snub. But a lot of parents, not to mention women reveling in the #MeToo movement, felt rubbed the wrong way by the appointment of a rich white male educational neophyte over a woman with 32 years of experience working within L.A. Unified, where she began as a teacher assistant.
"The man you're about to choose has no history of success anywhere," warned ex-school board president Jeff Horton. "What that says to all of the educators that you depend on to deliver your product is, 'We don't really care whether a person knows about education. We have other criteria — which are connected with our donors and our backers.'" The majority in the 5-2 vote received a total of $15 million in donations from the charter lobby.
One thing is certain: even for a miracle worker, it will take a lot longer than Beutner's usual year-long tenure to demonstrate significant improvement in the district. Times columnist Steve Lopez lists the issues: "Falling enrollment, rising pension and healthcare costs, academic struggles, billions in deferred building maintenance at hundreds of schools, political division on the board and an ongoing philosophical difference between charter school supporters and those who believe they are draining traditional schools staffed by union teachers."
Here's the rub: even if Beutner somehow manages to make a dent in L.A. Unified's longstanding problems, there's no metric in place to judge success that everyone agrees upon. Knowing Beutner — as you can imagine, I've studied him closely — I'd lay better-than-even odds that, as ever in search of a quick score to pump up his political prospects, he'll throw up his hands and walk away again before long.
(Ted Rall (Twitter: @tedrall), the political cartoonist, columnist and graphic novelist, is the author of "Francis: The People's Pope." You can support Ted's hard-hitting political cartoons and columns and see his work first by sponsoring his work on Patreon.)