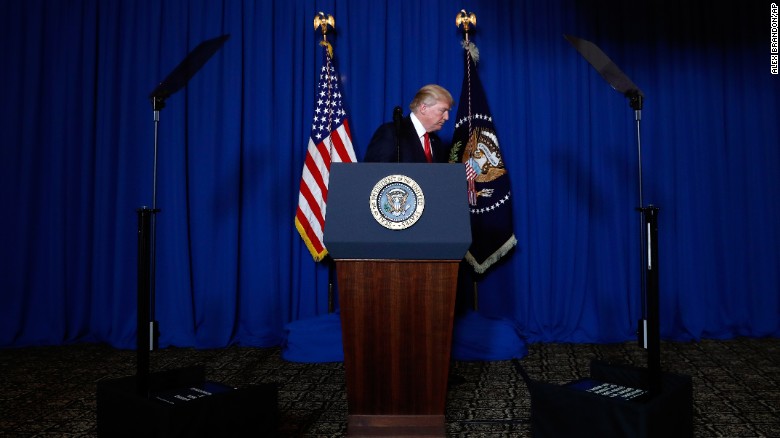 This one is in post-9/11 cadence: why do liberals hate Trump so much?
It's his style.
This being about politics, one would think — would hope — that the president's atrocious Watergate-level poll numbers were the result of his self-evident idiocy, Muslim-bashing, far-right cabinet and court picks and his policies. Rancid as they are, Trump's politics don't seem to be the main reason he riles up so many Democrats.
You pick the Trump outrage that's got liberals in a tizzy and I'll point to an equal and not-so-opposite they had no problem with when it was authored by a Democrat.
Trump's first major policy decision was his ban on travel to the U.S. by the citizens of seven (later revised to six) Muslim countries. Thousands of protesters converged on JFK and other airports. Federal judges across the nation issued emergency stays. Subjecting people to a religious test? Such evil nativism could not stand! Right-wing media pointed out/claimed/stretched that President Obama — who, save for the short-lived Occupy Wall Street protests, suffered few complaints from America's impotent Left — had thrown a wrench into immigration by Iraqis to the U.S.
False equivalence? Perhaps. It became harder to avoid the stink of progressive hypocrisy when Trump authorized his Department of Homeland Security to deport non-citizens, including green card holders, whom the authorities even suspect of an offense — which could be as trivial as a traffic ticket. Millions of law-abiding Americans — if you're born in Mexico and came here at age four and never lived outside of America what else are you but American? — were in Trump's crosshairs. It was racist and nativist and disgusting and why the hell didn't Democrats take to the streets to call Obama racist and nativist and disgusting when he deported more undocumented workers than any other president in history?
Trump ran as an anti-interventionist. America First! Leave the world to its troubles; the U.S. has too much infrastructure to build and a country to make great again to bother with foreign BS. In a extemporaneous portfolio short on detail and long on invective, isolationism after 15 years of Global War on Terror was a Trump thing most of us ought to have been able to get behind. Now, after three months of beribboned armchair generals whispering belligerent nothings into his ears, Trump has discovered his inner carpet bomber. Syria must be bombed! Well, bombed more.
The U.S. destruction of Syria began under Team Obama-Clinton, of course. Surely even Trump remembers that; he talked about it all last year at his rallies. Hillary told Barry to fund and arm something called the Free Syria Army which no one knew anything about and turned out to be mostly a thing called the Al Nusra Front which is pretty much Al Qaeda and seems to be friends with ISIS now.
Remember all the antiwar rallies in 2012? Remember how Obama got primaried for destroying Libya and Syria? Neither do I. But don't be surprised if the streets fill with signs opposing Trump's Syria war — signs that might have made a difference to the hundreds of thousands of Syrians killed by American-made and –funded weapons under Obama.
Bill Clinton's 1992 campaign mantra was "It's the economy, stupid." Now it's tribalism and it sure is stupid.
There isn't much ideological distance between neoliberal warmonger Obama and corporatist warmonger Trump. There is, of course, all the difference in the world in their styles.
Obama was a bourgeois liberal Democrat's sopping wettest dream: affable, professorial, so calm a pundit called him Spock. Whole Foods, Trader Joe's, Doris Kearns Goodwin! Bet he (or Michelle) owns at least one tote bag from an NPR pledge drive.
Who cared that he called Snowden a traitor and ramped up NSA spying on Americans and kept Gitmo open and kept torture and said it was OK for American cops to use killer drones to kill Americans on American soil? He was a fascist. But he was our fascist. Our fascist with a smile.
Trump frowns. Like Churchill, he thinks.
Their fascist.
Trump, on the other hand, is Republican and crass and loud. He doesn't know what he's talking about and he doesn't care that everyone knows it. He dates and marries trophy ladies. His cabinet picks don't know significantly less about the world than Obama's did or Hillary's would have. The difference between his and his and hers is that Trump's gang is ugly and brash (Bannon, Flynn) to the Democrats' Tuesday night kill list pretend seriousness.
Democrats aren't a party. They're a sports team.
Not convinced? Consider the Did Russia Install Trump hysteria.
There is, after thousands of articles and scores of hours of Congressional testimony, still not a smidgen of evidence (much less proof) that Russia influenced the election. Yet here you have Democrats — the gang that's supposed to be into the Truth about climate change and science and all — calling for impeachment. Why this bizarre conspiracy theory? Why not simply impeach the SOB for being stupid? But I digress.
Russia-bashing completely without cause, older readers will recall, is the traditional go-to of the right-wing. What are fine Rachel Maddow-watchers like you doing in an ugly hidey-hole like this?
Tribalism. Y'all are rabid over Trump for doing the same crap Obama did because Trump's an R and hangs with the jocks and you're a D and a geek so you hate Trump and miss Obama. Junior high school cafeteria seating system, anyone?
The worst thing about America's political system is that it has no politics.
(Ted Rall is author of "Trump: A Graphic Biography," an examination of the life of the Republican presidential nominee in comics form. You can support Ted's hard-hitting political cartoons and columns and see his work first by sponsoring his work on Patreon.)